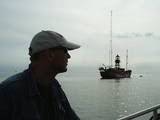 New Trouble maker


Posts: 39
Joined: Sun Aug 29, 2004 13:32 pm
Location: ZO-Friesland (N. of the Netherlands)
Special broadcasting on the 6.485 MHz. (48 mb) of INTERSOUNDRADIO, next Friday the 15th of August 2014 from 05:00 (local time) CET (03:00 GMT) til ???
First hour: The Sounds of the Swan - Hans de Swan
Second/third hour: The Lavatory Show - Professor W.C. Waters
More information in 3 languages (English, Dutch & German) about the amazing story of the incredible Professor W.C. Waters on:
http://mv-lavatory.webnode.nl
Mail suggestions, reactions and receptionreports about Intersoundradio to:
intersoundradio@hotmail.com
(don't forget your name and adress, so we send a QSL-card on the 'old fashioned way' back by post and all for free).

Your sound... My sound... Inter...