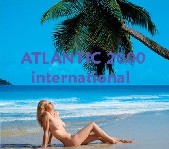 General Trouble maker

Posts: 102
Joined: Wed Nov 14, 2007 21:19 pm
Atlantic 2000 will be on the air this Sunday 1st April, from 08:00 to 09:00 UTC (10:00 to 11:00 CEST) on 9480 kHz, and at the same time on our website.
If you want to receive our QSL card, send a correct reception report including details about a minimum of 15 minutes of programme, and more.
Don't forget to mention your name, address, receiver and antenna used, SINPO code...
More details here :
http://radioatlantic2000.free.fr/Rapports.htm